Good morning! I hope you all are enjoying the great weather we have been having this spring season. Hopefully, this weather continues as we move towards the summer. At the risk of sounding redundant, today I want to discuss inventory levels, which is at a major sticking point. At this time, there are very few choices available. In cases that inventory actually does become available, most sell on the same day or in some cases, within minutes of listing. Under these circumstances, I think it is safe to assume a pre-negotiated offer associated with a party attempting to manipulate the list time was involved. Not only can this be very frustrating for a buyer, but it almost seems unfair.
Over the past few months, inventory levels have continued to steadily retract. Many of us, including myself, anticipated robust sales during the spring season, but instead, the month-over-month numbers have hovered at or near all-time record lows. This all doesn't quite make sense considering interest rates are still very good, lending guidelines have improved quite a bit, the market is healthy, and unemployment is at a 7-year low. So, we are all probably wondering why we are seeing this sort of activity or lack thereof activity.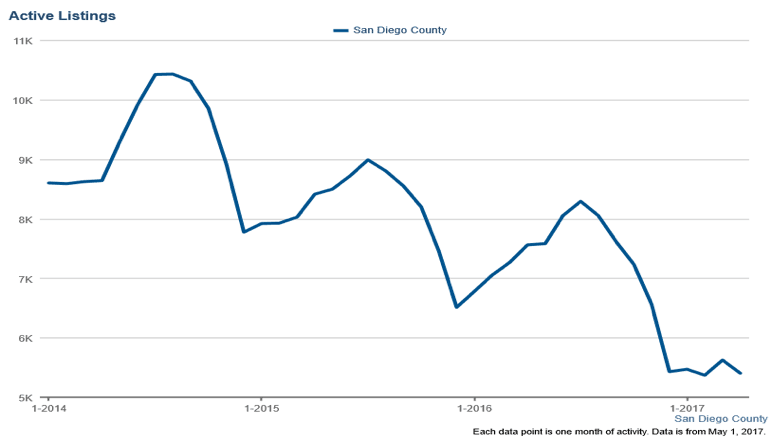 In the past few days, I have read quite a few articles regarding the reduction in inventory levels; many of which are contradictory. For example, CNBC stated, " from February to March, demand from homebuyers fell 14 percent the number of buyers writing offers dropped nearly 23 percent". Referencing the same data, Bloomberg presented the information as a market offering more stability and consistency. These types of contradictions can be rather confusing. So, let me give you the facts on what is really going on here in San Diego. If you look at the MLS for San Diego, the numbers illustrate a steady drop in new listings since the beginning of the year. As the year progressed, the number of new listings dovetailed into the decrease we saw in Q4 of 2016.


So What Does This Information Mean if You Are an Active Buyer?

Within the past 60 days, prices are rising anywhere from 2 to 3 percent, and in some communities, all the way up to 5 percent. Due to the rapid increase in list prices, some folks in the market are faced with being 'out-priced' because they are unable to qualify for this increase. In some cases, some buyers sat out the market waiting for interest rates to settle, and well, unfortunately, it cost them. This phenomenon is what I call the 'scale approach. As it relates to real estate, one side of the scale is loaded (interest rates) and the other side remains empty (price points), which causes an imbalance. If you wait for a decrease on the loaded interest rate side of the scale when the rates settle, what happens to the empty price point side of the scale? That's right, price points go up.
In a market where money is cheap, inventory is low, and consumer confidence is high, the last thing you want to do is vacillate. No one wants to find their "dream home" just to be outbid after a back-and-forth saga with the seller. With what seems to be a "name your price" seller's market, homebuyers are disenchanted. In some cases, homebuyers have given up together (I have personally seen this twice in the past month). Even with rates where they are, it is hard to ask a buyer to exceed their budget. Or even worse, ask a buyer to try and source funds that they simply don't have, when they could have purchased the same home for less money 3 months prior.
But rest assured the outlook is not so bleak. There is still hope.
The takeaway from this is if you are a buyer, then go out and buy a home. The advantages you have – and yes, there are still advantages, are with the decrease in inventory, there is a decrease in people looking to buy. If you happen to be in the market and are ready to purchase, there are plenty of opportunities out there. Those of you that are selling and looking to buy are getting the best of both worlds. You are selling in a peak market, which means you are going to make money. That money earned can be rolled into the cost of your new home probably at a lower interest rate than you currently have. As a result, this lowers your borrowing cost basis and increases your 'purchasing power. Now you are literally getting more for less (figuratively speaking). It may seem like a daunting task, but with the right approach and by placing your trust in the process, I can guarantee a positive outcome!