What do the weather and real estate have in common? That's easy; the forecast indicates that both are getting warmer. Over the past year, we have seen prices go up, inventory goes down, and buyer frustration hit a fever pitch. In what seems to be a market that is leap-frogging past sales records, I thought I would touch on the 'true numbers' and what the local market looks like.
Reading reports and seeing a featured headline about home sales on a daily basis is what seems to be the current trend. Between the local news and national media outlets, the articles are always on the front page. From CNBC to Fox Business, the reports shed light on what is happening with home sales overall, how existing home sales are doing regionally, and every so often, we may even get a nod as to what is going on in our very own backyard. The gross majority of the information seems monolithic; a common trend line would emerge by overlaying any combination of the various reports. Basically, the common trend you would see would be a favorable incline in the sales price and a decrease in the overall inventory levels. This holds true regardless of the market area, time of year, or type of property.
Far too often, consumers are mired down by overanalyzing the data and hyper-fixating on one acute section. In doing this, the consumer fails to look over the instrument panel to see what may be passing them by. The key metric commonly overlooked is what is sitting right in front of all of us. Today's market is the most stable since 1996; these days, mortgages being written are typically on well-qualified paper. Gone are the days when an unemployed, 18-year-old with a 600 FICO score can get a million-dollar mortgage with zero-down. These days, buyers are well qualified, are able to supply ample down payments, and don't view their homes as an ATMs. In conjunction with the overall stability of the market, these factors are fueling the surge in sales prices. Buyers "get it" and they want in…but that is only if they are lucky enough to find a property.



Last week, I read an article that stated the housing market in Orange County had reached an all-time high. With a median sales price of 675K, Orange County homes set records in the month of April, which is amid one of the hottest spring homebuying seasons since the housing recovery began five years ago. Despite a lack of inventory, the strong demand continued, which pushed sales upward as well. We are seeing a lot of the same trends here in San Diego. This week, the national home price index for the month of March increased 5.8 percent. One year ago in March, the widely tracked 20-city home price index rose 5.9 percent, which is the highest increase since July 2014! Compared to the overall data, San Diego is at the top of the national average; ranking in the top 5 market areas and reaching near all-time highs. San Diego County's real estate market is thriving. If we take a cue from our neighbors up north and if all stays on track, without a doubt, I expect that we will see a median price-point record by Q4 this year.
One of the other key metrics commonly overlooked are foreclosures and bank-owned properties. As you can see below, foreclosure activity has decreased precipitously in the past 4 years. A large portion of the distressed properties has been sold bringing foreclosure inventory levels to an 8-year low. These numbers coupled with low overall inventory figures are yet another set of factors behind the inventory shortages that we are seeing today.
Now let me explain why this information is important to you. With fewer and fewer distressed sales hitting the market, the overall inventory we do have is typical of "quality" homes that buyers want. These days, buyers aren't looking for a 'fixer-upper' that they can save a few bucks on. Rather, buyers want a home that they can move into and enjoy right away. With that mentality, the few foreclosures and short sales that are available, sell below market averages. This is not due to the condition of the home per se, it is because buyers don't see the value in waiting around for months with only the mere possibility of purchasing a home. Again, buyers want in and they are almost willing to pay anything for that convenience.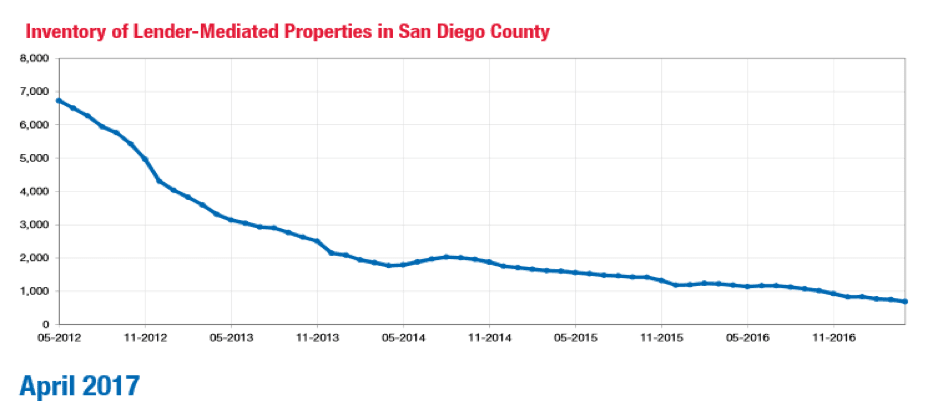 In summary, if you are in the market to buy or sell, your timing couldn't be better. With near record-low interest rates and with rental prices reaching nose-bleed levels, getting into a new home is more affordable than you may think, and buying a home is going to save you a ton of hard-earned money. It may seem like a daunting task, but the minute you hear the word, "sold!" you will realize it was all worth the ride.